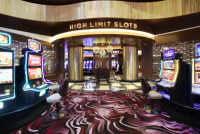 Less than a year after it completed a $100 million renovation of the property that included new signage and Boardwalk access, the Atlantic City Tropicana wrapped up another $50 million upgrade.

Designed by SOSH Architects, the Trop renovations continue the reinvestment in the property that has been ongoing since Carl Icahn purchased it in 2010. The Tropicana today is one of Atlantic City's most successful casinos, and includes the most non-gaming amenities of any casino in the city.

This round of renovations included a complete renovation of the 500 rooms in the Havana Tower, matching the renovations completed a year earlier in the North Tower. The rooms feature sophisticated new décor, contemporary artwork, modern furnishings and spa-inspired bathrooms. Natural light floods all the rooms through large windows with various ocean and bay views. Cues were taken from woven textiles in neutral hues, lively accent colors, and bold patterns inspired by the Cuban marketplace, which is also celebrated at Tropicana's The Quarter shopping area.

In a nod to the casino's most important customers, the Tropicana added a new High-Limit Slot Room, with 175 high-denomination video slot games. At the entrance, more than 2,000 illuminated falling flower crystals give the illusion of petals floating softly through the air. Private luxury restrooms, leather-wrapped walls, walnut woodwork, marble floors and both smoking and non-smoking areas complete the well-designed space.
And finally, in an effort to improve operations and customer service, the Trop opened up a back-of-the-house area to provide a Pacific Avenue entrance to the property, something previously lacking. The project consists of three amenities—a newly redesigned Rewards Center, the Corner Market, and the high-end Luxe Salon. The repurposed space boasts a sleek modern look and feel, with marble flooring, dimensional metal columns, and neutral walls with saturated color accents to add to the contemporary design. The use of luminous LED spheres in various sizes and patterns emanates spectacular light throughout the concourse.

The end result is a dynamic new space and amenities for guests to enjoy at the Atlantic City resort.
Owner: Tropicana Entertainment
Architect/Interior Designer: SOSH Architects
General Contractor: Massett Building Company
Investment: $50 million