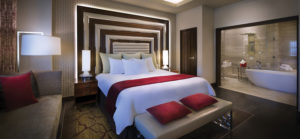 When it opens in 2020, Resorts World Las Vegas—now rising on the site of the former Echelon project on Las Vegas Boulevard—will include a 175,000-square-foot casino, a 4,000-seat theater, a retail and dining sector and convention space.
That's not all. The project will also feature a rooftop sky park and observation deck, bowling alley, ice-skating rink, panda exhibit, aquarium and four hotel towers with more than 6,500 hotel rooms in an area that will cover nearly 22 million square feet.
With that overall investment—estimated at between $4 billion and $7 billion—there's no such thing as an ordinary room.
Fantasy Islands
Las Vegas-based Steelman Partners is directing the design of Resorts World, a project of Malaysian gaming operator Genting Group. Principal Paul Steelman has worked for a who's-who of the gaming industry including Kirk Kerkorian, Steve Wynn, Sheldon Adelson, Francis Lui and Stanley Ho.
Steelman's interior design subsidiary, Dalton Steelman Arias & Anderson, works every facet, from concept and space planning to construction administration. Its role includes interior development, custom lighting, furniture and custom textiles for restaurants and lounges, casinos and VIP gaming salons, spas, retail and performance venues.
"Casino spaces should be bright and fun," says DSAA Principal Nicole Dalton. "Operators want to wow their customers in the lobby, empower them in the casino, and make them feel at home and special in the guest room."
Behind closed hotel room doors, "you want to create a detour from reality, an escape from everyday life," Dalton says. "In the guest room, you want to create different fantasies that they don't have at home, an environment that's out of the ordinary."
Dalton approaches room design with an eye for both past and future. "We're designing rooms to have a more 'residential-luxe' feel. The bed linens and pillows are luxurious, yet the design of the bedding remains white, which is always timeless.
"I see the trend of accent throws at the foot of the bed going away. We're adding fully upholstered walls to create a more inviting space. Our goal is to create a room that doesn't have any negative feedback on sites like TripAdvisor."
The furniture is designed to be multi-functional, she notes. "Often due to space limitations, we'll create a chaise longue that's not only inviting to relax in, but also a place for people to work and dine, rather than adding a traditional dining table, desk/workspace. We're creating more multi-use spaces."
Bathrooms offer another area for innovative luxury. "Good lighting is essential," says Dalton. "We use lighted mirrors and frosted doors to allow more light into the space, and natural stone whenever the budget allows to create a more residential feel. To create the look of a high-end marble bathroom, we're now using engineered stone, which is far more durable and less expensive than natural stone—again, to create a high-end residential look."
The approach to wall art has shifted away from typical framed pieces, she says.
"We try not to do the expected when it comes to art in our guest rooms. It doesn't have to be just framed images on a wall; it could be a screened wall pattern used as a divider between the guest room and the bathroom." In one novel creation, "we designed a channel-tufted, fully upholstered wall with artwork printed across the entire length of the room, creating one large piece of art."
What Millennials Want
Millennials are an increasingly important demographic. Perhaps surprisingly, the uber-social generation also demands privacy, says Dalton.
"They don't necessarily want to interact with anybody. During their stay, many things are customizable onto their iPhone. They'd like to check in with their iPhone, unlock their door with their iPhone. You swipe your phone and the television comes on to something you like. You can order things off your phone, have food sent directly to your room. We're incorporating more of that into the design."
Younger guests "want a space that feels modern and will change with their mood. We're designing rooms with control systems like Alexa so the guest can say, 'Close the draperies. Buy a concert ticket. Turn on the lights.'"
Dalton has worked with many of the world's leading gaming companies including the Las Vegas Sands, MGM Resorts International, Station Casinos and Caesars Entertainment. For her, the experience never grows stale. It can run several months to a year and a half, spanning hurdles and adrenaline rushes.
"You get most excited during that two weeks before the install," she says. "You see it coming together and you remember the beginning of the project, sitting in that meeting and looking at the faces of your clients and knowing you've captured what they want. They understand it. They get it. They want it."
Hard Commitment
It's been quite a year for Hard Rock International. In March, the gaming giant purchased the former Taj Mahal in Atlantic City, with plans to reopen the property next year as a casino hotel. In April, Hard Rock unveiled a smashing new high-end Art Deco-inspired mezzanine-level casino in Tampa, Florida. The developments were welcome news in their respective markets.
Atlantic City, beset in recent years by the loss of five casinos, will be invigorated by the financial muscle of Hard Rock. Its acquisition and planned renovation of the Taj could reach the $400 million range and add some 3,000 temporary and permanent jobs. The move also signals, for Atlantic City optimists, the bottom of its recent slide.
"We're going to do this right," says Jim Allen, chairman of Hard Rock International and an Atlantic City area resident. "Doing it right doesn't just mean some new carpet. It means a complete renovation of all the guest rooms—not just bedspreads, but literally taking the bathrooms out and redoing them. It means all new furniture and a complete redesign of the casino floor." He adds that "some narrowness and obstructions" in the original structural design will also be eliminated.
The company hopes to install 2,400 slots and 130 table games in Atlantic City. The property also will boast a redesigned interior and new first-class food and beverage concepts headlined by Council Oak Steak & Seafood, made famous at the Seminole Hard Rock properties in Florida. The Hard Rock Cafe Atlantic City will feature an upgraded 400-seat venue, including a new stage and central location within the property.
Hard Rock will offer live music, sporting events, conferences and shows at two separate arenas with capacity for more than 7,000 people; a full-service Rock Spa; and the Sound of Your Stay music amenity program offering complimentary in-room Fender guitar checkouts.
First Class All the Way
For Atlantic City residents, the future looks exciting. For Florida residents, the future just arrived.
The Tampa expansion, which opened in April, includes more than 26,000 square feet and offers 500 of the newest high-tech slot machines and 15 live-action table games including blackjack, Double Deck Blackjack, 3 Card Poker, Casino War, Ultimate Texas Hold'em and Crazy 4 Poker.
"We're enthusiastic about opening this new casino space, which is just one of the expansion projects scheduled for this property," says Joe Lupo, president of Seminole Hard Rock Tampa. "We certainly want the Tampa Bay community to come out and experience this first-class facility."
Wimberly Interiors, considered one of the world's leading design consultants in the hospitality industry, created the Art Deco casino. The new space contains approximately 14,000 square feet of Italian marble. The lighting in the new venue includes chandeliers that are reminiscent of Jazz Age flapper dresses.
The new Orient Road Garage will have a walkway into the mezzanine-level casino where guests can take a self-guided "rock walk" tour showcasing more than 100 memorabilia pieces from artists such as Beyoncé, Carrie Underwood, Stevie Nicks and Bon Jovi.
Get Smart
Viejas Casino & Resort near San Diego, owned by the Viejas Band of Kumeyaay Indians, has been in a state of expansion since 2013. The 25-year-old property added a second luxury tower two years ago including five luxury suites with high-end amenities (multiple HDTVs, wet bar, exquisite handcrafted furnishings, oversize walk-in showers, Jacuzzis and whirlpool jets).
More innovations are coming, according to Tom McCartney, president and general manager of Viejas.
"Loyal guests and players to the property are looking for more reasons to visit," he says. "We're aiming for an integrated resort experience in which people can interact with the property as they see fit. From the expansion of our gaming offerings and new restaurants to adding more amenities like an adult-only pool and tower, our guests will have many more ways to experience our property."
McCartney combines an aesthetic and pragmatic approach to the rooms.
"The ideal hotel room needs to be two things above all else: well-functioning and comfortable," he says. "While our rooms go above and beyond, those are the two unwavering foundations of a great room experience. If you can easily navigate and use a room, and it has intuitive features like lighting and bathroom fixtures plus high-quality beds and linens, guests will be happy."
Beyond meeting basic expectations, "we also want to ensure all amenities and services match what they can experience at home," he says. "For example, rooms shouldn't have alarm clocks in them, because who uses them anymore? These are a thing of the past. Properties should strive to have their rooms be modern and complement your overall brand."
Interactive electronics like Alexa, Amazon's "intelligent personal assistant," in each room give guests specific information about the property and what's going on. Where does it all end up?
"The message we want to send our guests is that this is an escape from their everyday lives," says McCartney. "A place where they can come to relax, have fun and experience the thrill of winning."
Viejas offers outlet shopping, an outdoor concert space called the Park, a 10,000-square-foot roller rink in the summer which turns into an ice rink in the winter, a luxury pool area, deluxe dining options and more.
"It's only getting better with the new additions," says McCartney. "We offer a completely integrated property that combines gaming, amenities and entertainment."
Classic touches remain, like turndown service featuring gourmet chocolates. Soft music plays in contrast to the noise, adrenaline and excitement downstairs.
An improving economy is one incentive to lure customers. New amenities may persuade them to stay longer.
---
Ringside Seats
Comfort is paramount in the casino. Outfit your floor with seating expressly designed for the gaming resort.
A dedicated slot lover can play for hours if the seating is comfortable. The same player may move on within minutes if the seating lacks support or does not move easily. Casino seating—from slots to tables, from sports books to bingo halls and bars—must be durable but stylish, and able to withstand continuous use.
Gary Platt Manufacturing took a seat at the gaming-industry table more than two decades ago. The Reno, Nevada-based firm found a niche and struck it rich. Each chair in its collection is hand-crafted and customizable with a wide range of upholstery, design and accent options.
Gary Platt supplies virtually every casino in North America. Its proprietary foam—the heart of the chair—is injection-molded with built-in lumbar support to fit the human form. The seat has a waterfall front edge to relieve stress on the legs. The wood is also fully contoured to match the foam, so neither will break down over time. Slider glides make the chair user-friendly and easy to move.
Munich-based Patir Design has earned a place of distinction in the casino and hospitality industries. For more than 20 years, the family-owned and operated firm has created premier seating that stand up to 24/7 use while maintaining its smart, lustrous look and abiding comfort.
Manufactured with fabrics that are exceptionally robust, Patir chairs ensure that casino customers can relax in comfort for the duration of their play—and then some. Operators can mix and match from a range of bases and upper seating to meet their specific needs. Patir's designers and engineers will happily customize casino seating from existing product lines, or create something new and exclusive just for your property. Patir also offers friendly expert advice, short delivery times and ongoing, first-class service.
Pamper your customers with seating that's comfortable, attractive—and keeps them in play.