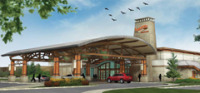 Four Winds Hartford Casino
Hartford, Michigan
OWNER: Pokagon Band of Potawatomi Indians
DESIGN FIRM: Hnedak Bobo Group (HBG)
TOTAL INVESTMENT: $40 million
The Hnedak Bobo Group (HBG) of designers has helped the Pokagon Band of Potawatomi Indians of Michigan to build on its reputation for creating a new standard for gaming in the Midwest with a design for its satellite Four Winds Hartford. The new casino will remind visitors of everything they like about the original Four Winds Casino in New Buffalo, such as a smaller version of the popular Timbers Fast Food and Deli.

When it opens in August, it will maintain a comfortable familiarity with the original, although it will be smaller, 52,000 square feet, with 500 slot machines and nine table games. It is located less than an hour away from its big sister casino.

The exterior of the casino is built around an iconic 50-foot-tall chimney structure next to the casino's porte cochere that recalls the tribe's cultural identity as "keepers of the fire." Round cedar columns support the porte cochere. According to HBG's project manager Paul Bell, "The design is inspired by regional, rustic elements that connect tribal references and symbolism."

The chimney tower itself creates a hearth room, between the casino's foyer and its retail shop, centered on a circular fire pit covered by a copper hood. From this fire pit to the seam metal mansard roofs, visitors will be pleasantly reminded of the original Four Winds at the same time the tribe's cultural heritage is reinforced and celebrated.

As tribal Chairman Matt Wesaw puts it, "It didn't lake long for the principals of HBG to understand our culture, traditions, philosophy, and our intent to translate the quality level of our Four Winds New Buffalo Casino into the design of the Four Winds Hartford."

But that is to be expected from a design firm whose list of accomplishments include the just-opened Wind Creek Casino and Hotel along Alabama's Gulf Coast, and Harrah's Prairie Band expansion on the Kansas plain. HBG is a design firm that specializes in bringing the dreams of gaming tribes to life in stunning cultural expressions.