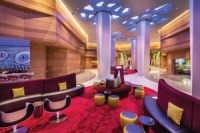 Casino Hotel
A transparent glass tower that reflects the ripples of Lake Michigan pierces the Milwaukee, Wisconsin skyline to welcome guests to the Potawatomi Hotel & Casino.

"It's a very exciting project from a design perspective," says John Culligan, director of architectural operations for the Cuningham Group, designers of the new hotel in Milwaukee, which had its ribbon-cutting October 1.

The Forest County Potawatomi have an existing casino and events center downtown. The $150 million, 19-story Potawatomi Hotel adds 381 rooms, including 16 suites. The 3,000-square-foot presidential suite gives a tremendous view of downtown Milwaukee and Lake Michigan.

"The concept we follow in developing a design is that every building tells a story," says Culligan. "We collaborate closely with our clients to tell their story insofar as their business culture and clientele."

Yongkoo Lee, the project's architectural designer, says, "We started with the client's desire to create a modern and iconic hotel tower, which would represent the tribe to their city and state—something they could extend along the skyline. We tried to create a building that would tell the story. We created a transparent glass tower whose skin reflects the excitement of the city."

They designed a torchiere symbolizing that the tribe is known as "Keeper of the Fire." The slim tower is topped by a beacon 20 feet tall that illuminates in multi-colors, projects logos and can advertise special events. At the top, large letters spell Potawatomi.

Rising from the Menomonee Valley, an old industrial part of Milwaukee with few multi-story buildings, the tower is designed in a three-story podium. "From afar the roof flows into the casino," says Lee. "You can see it for miles, and that builds excitement as you arrive."

Clad in off-white metal panels, from a distance it looks like a light glass tower, although it is structurally strong. The off-white distinguishes it from the gray industrial valley. "It's modern, it's fresh, it's excitement and entertainment," Lee says. "It has an extensive presence on the skyline.

"We tried to replicate the design architecture of the casino, seamlessly creating the new building. You enter a whimsical porte cochere, which is an abstract form of an eagle about to take off." Eagles are, of course, very potent symbols to almost all Indian tribes.

Interior designer Janet Whaley adds, "Our new tower promises the experience of excitement. The two-story lobby delivers on that promise. It's a walk through a stylistic forest. A lot of inspiration came from their existing casino. We took that as a starting point and wanted to reference nature but in a modern and abstract way."

Columns rendered as tall trees disappear into canopies covered in color-changing LEDs that create different moods. The walls have a modern interpretation in veneered woods. Adding to the "wow factor" is a large hand-painted glass mural of Lake Michigan behind the front desk, a single large piece of white stone.

Compared to other hotel suites, this one has full floor-to-ceiling windows with great views. While not the lap of luxury of the Presidential Suite they will, at very least, make you feel like royalty.
Owner: Forest County Potawatomi Tribe
Architect: Cuningham Group Architecture, Inc.
Contractor: Gilbane Building Co.
Total Investment: $150 million