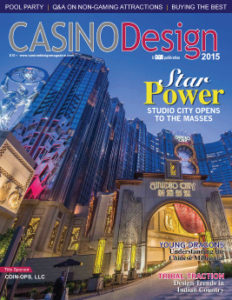 t's not a complete coincidence that the Chinese government crackdown on corruption has stymied the VIP business in the Macau casinos. For years, the Macau government has been urging the casino companies to de-emphasize the VIP market and focus on the mass and premium mass (the visitors that fall between middle class and "whales") by developing non-gaming attractions.

But it proved difficult to convince casinos to turn their back on 70 percent of their gaming revenues. So when a Chinese edict to reduce corruption on the mainland spilled over into Macau, the casino companies had no choice but to sharpen their focus on the mass market.

In reality, however, the Cotai casinos have always featured more than just gaming. The first, the Venetian, offers massive MICE facilities and retail. Later, Galaxy and City of Dreams added entertainment and other features like upscale hotel suites and innovative pools.

But there has been nothing in Macau like Macau Studio City, a property largely owned by Melco Crown Inter-national, which also owns City of Dreams and Altira in Macau. Studio City is poised to redefine what it means to develop non-gaming attractions.

Just a few years ago, Melco Crown rescued the dormant project, which ground to a halt because of financial roadblocks in the first frenzy of Macau development. But outside of the foundation and the projected entertainment theme, Melco Crown Co-Chairman Lawrence Ho changed the original plans for Studio City, and transformed the project into a glittering $3.2 billion Hollywood movie set.

"Since Melco Crown Entertainment became involved with Studio City, we have ambitiously planned and developed the property to engage the much broader group of leisure entertainment seekers who want emotionally engaging experiences that they can share with friends and family," says JD Clayton, the president of Macau Studio City. "This vision of Mr. Ho has brought a new life to Studio City."

Gary Goddard's Goddard Group was named the lead design firm, and along with the architect of record, Leigh & Orange, the two companies collaborated in bringing Ho's vision to life.

"When Melco-Crown became the majority owner in the project, Lawrence Ho decided that the previously designed 'contemporary steel and glass building' did not really communicate the idea of a destination that was to be about entertainment, nightlife, recreation and fun," Goddard explains. "As a fan of cinema in all its many forms, Mr. Ho decided the new resort should be iconic in a way that would create excitement for visitors to Macau. He wanted a destination that would draw its inspiration from the world of motion pictures and entertainment. And he wanted a new resort that would become Macau's next 'must-see' destination.

"The only thing we were asked to retain was the basic foundation, as the steel was already being installed on site. So we kept the foundation, but then set about creating an all-new approach to the design. Our goal was to create something that would be immediately iconic, meaning that it had to be different than anything else in Macau, and ideally, anything else in the world. So we looked to classic motion pictures and decided to create something that would, like the greatest movies in history, be an epic and larger than life in every way.

"We set about creating a design for Studio City that would recall the power and energy of the silver screen with a number of unique elements that would echo our memories from event movies of the past and present."

Jettisoning Junkets
In what would have been heresy a few short years ago, Ho decided to forgo the VIP rooms that had been standard in every casino in Macau.

"We steered away from the VIP market a long time ago," he told the Macau Daily Times. "I think we are the second least reliant on VIP customers out of the six concessionaires. The VIP contribution to our overall group, even before Studio City, was less than 10 percent, so that is not that important to us at the moment."

The thorny question of how many table games would be granted to Studio City was resolved just days before opening when the government approved 250 tables at the property. While it fell short of the 400 that had been requested, it was 100 more than was granted to the second phase of Galaxy when it opened last May (Galaxy was granted an additional 100 tables at the same time the Studio City allotment was announced). However, Ho will be forced to renegotiate loan terms, which required 400 tables.

"It's no secret that for a long time the rumor was we were going to get 150 tables," said Ho. "Were we flipping out? Of course we were flipping out. But we never went out publicly. There's no arguing with City Hall. There's no arguing with the government. There's only begging and lobbying and more begging."

Clayton says gamblers will be pleased with the selection of games.

"With an array of choices of gaming tables, slot machines and electronic table games, Studio City offers an exciting and dynamic gaming experience on the main gaming floor," he says. "It is worth noting that when walking into the retail space, casino visitors will be favorably impressed with the expertise and attention to detail that was given to interior design. The cinematic theme is very evident in the space, and provides a warm and engaging atmosphere in which to be entertained."

But Ho believes that the non-gaming focus of Studio City is crucial for not only the success of the property but also of the city.

"What has been going on with the Chinese economy, especially the anti-graft campaign, has made the VIP environment more challenging in the near term, as fear has been driven into the hearts of many of the middle-to-upper class," Ho told Fairfax Media. "However, the gaming market, especially the mass-market segment, still has much potential for development.

"Melco has tailored its investments and market strategy towards attracting a diverse clientele from both gaming and non-gaming sectors. Diversification and innovation are paramount to overcoming the challenges and ensuring sustainable success in the city."

Clayton echoes his boss.

"We are confident that all these elements found in Studio City can take Macau's entertainment destination proposition to new heights and help position Macau as Asia's top leisure and entertainment destination," he says. "Melco Crown Enter-
tainment has tailored its investments toward attracting a diverse clientele other than gamblers. Diversification and innovation are paramount in overcoming the challenges and ensuring sustainable success in Macau. We are well prepared to bolster our presence in the mass market to grasp the growing opportunities in the segment. This is demonstrated through substantial and innovative enhancements to our assets."
Location, Location, Location
One of the main reasons Melco Crown felt Studio City was the right acquisition target is its location. Situated adjacent to the Lotus Bridge border crossing connecting Macau and Hengqin Island, China, it also is close to one of the proposed light rail stations in Cotai that will transport people across Macau.
"The strategic location provides convenient access and traffic flow from key transportation gateways and thoroughfares," says Clayton. "Studio City is therefore geographically well positioned to serve Asia's increasingly important mass-market segment."

The target market for Studio City confers upon it a "make-or-break" proposition when it comes to Macau. Clayton has no doubt that Studio City will deliver.

"Our entertainment attractions, rooms, food and beverage and leisure activities are all aimed at appealing to a broad customer base," he says. "As much as we would like to attract people who will enjoy the most technologically advanced and stunning casino in Macau, we also have the facilities for family visitors on holiday, as well as casual travelers visiting Macau for the entertainment, shopping and food. With our new ballroom and adjoining meeting rooms, 5,000-seat event center and multiple gardens and Pacha nightclub, we are also targeting the business sector for large corporate events and parties."
Design Elements
Goddard explains that the design of Studio City was crucial in conveying that entertainment theme Ho believed was essential.

"The Art Deco style was a deliberate approach that I felt best suited the goals as Mr. Ho outlined them," says Goddard. "First, the Art Deco style best captures the 'Golden Age of Hollywood' in an epic manner, delivering an iconic destination that we associate with the world of motion pictures. This was accomplished in an elegant and powerful way.

"Second, because this is a major resort destination, we want to assure that the design would deliver an upscale image, and people associate Art Deco as an elegant, clean and inviting form of design.

"Third, where Art Deco buildings remain, such as in Shanghai, they are as beautiful and engaging today as they were in the year they were built. This sense of classic and timeless design was another reason that we chose this direction. Studio City Macau will never appear dated because its design, lines and special features are all classic and timeless.

"Finally, from every angle, Studio City Macau is a photographer's dream, meaning that visitors will find this a multi-faceted place to send messages to friends and family around the world, and we designed the entire site with social media in mind.

"I should point out that in addition to the Art Deco design for the main building, this resort is based upon the world of motion pictures, and we took care to offer several unique entry points beyond the main front entrance. The Adventure Gateway faces the border entry from China and provides a spectacular entrance to the Studio City complex. But here we chose to create something that brings to mind exotic adventure epics like the Indiana Jones movies and many of the Bollywood action films. The design here emphasizes a sense of high adventure and a royal welcome that hints at the wonders that lie beyond the great doors."

Clayton says the combination of design and entertainment options makes Studio City unique.
"Studio City's cinematic theme and mass-market-focused entertainment offerings are clearly differentiated from our company's existing portfolio of assets, as well as from our competitors' facilities in the Macau market," he says. "This Hollywood-inspired resort will take best-of-class, entertainment-fueled leisure offerings to a whole new level in Macau, redefining the territory as a world-leading tourist destination."

Let Us Entertain You
Clayton reels off the entertainment options at Studio City and points out that each has a special attraction.

"Batman has become an internationally renowned household portrayal of justice, with a collaboration of great filmmakers in featuring the enduring icon in a new cinema production to global audiences every few years," he says. "As previously announced, the latest Batman v Superman episode will be shown in cinemas by the end of the year. So we expect that the world's first Batman Dark Flight ride will become the talk of the town with a screening of the latest Batman feature, and also will attract the focus of the Chinese audience to our Batman attraction at Studio City."

Clayton points out that with Franz Harary's House of Magic, the property is banking on the success of magic shows all over Asia.

"Taking over two years to develop, the House of Magic, Macau's first and only permanent magic extravaganza, is an incredible live magical experience," he says. "Franz Harary first brought his 'Masters of Magic' world tour to the City of Dreams in 2013, turning Macau into center stage of a global magical phenomenon with amazing feats never seen before in this part of the world.

"The show was a dazzling extravaganza that challenged your senses, and was well-received by audiences. Given the big success of the previous show, we are truly pleased to have Mr. Harary to once again host the amazing performance at the House of Magic.

"The House of Magic is home to magic acts performed by leading magicians from around the world. It is a one-of-a-kind multi-theater attraction unlike anything seen in Asia or elsewhere in the world. It is set to become the premiere performance venue for magicians globally. Featuring four live magicians in a three-theater magic complex, it amazes visitors with an array of mind-bending shows that include Harary's spectacular resident show Mega Magic, offering incredible live magical experiences showcasing the world's greatest magicians."

Studio City lives up to its name by presenting Studio 8, the only live television production facility in Macau available to all comers.

"In terms of television broadcast facilities, Studio City's Studio 8 is a 300-seat live-audience TV broadcast studio for reality and game show productions distributed in the Asia region," says Clayton. "It is the only TV studio facility in Macau to provide open access to plug-and-play facilities to create a fully operational television recording and broadcast studio. Studio 8 is a state-of-the-art studio with the necessary infrastructure to support the portable specialist equipment required for world-class TV production. It is set to become a broadcast entertainment hub used for filming, recording and watching Asia's top television programs."
Setting the Standard
Clayton says Studio City has upped the ante for what guests expect in an integrated resort, starting with the hotel rooms and suites.

"To deliver the 'Live Like A Star' experience to visitors, Studio City hotel offers the finest in luxury accommodations with 1,600 rooms and suites in two adjoining towers, the Celebrity Tower and the premium Star Tower," he explains. "The Star Tower delivers the ultimate in lavish facilities and service for more discerning guests, while our Celebrity Tower provides a deluxe hotel experience for group travelers including access to all of the entertainment that Studio City has to offer. Star Tower features spacious suites of 65 square meters, VIP and executive private check-in service, an exclusive indoor pool, the Star Club private lounge, and the luxurious Zensa spa, for an all-around glamorous experience reaching the highest international five-star standards."

Another bar-raising development at Studio City is the pool deck, where RiverScape, a lazy river concept, is combined with adventure.

"RiverScape is where the adventurous want to glide in the water for more than 260 meters, which will be a showcase attraction for hotel guests on the Studio City Podium Deck. RiverScape and swimming pool Aqua Play offer visitors the ultimate yet relaxing adventure experience for all ages. Spreading over 21,800 square meters, the recreation facilities include an outdoor pool and Jacuzzi, a white sand beach, contemporary sun lounges, private cabanas, a pool bar, and the adventurous RiverScape ride.

"Studio City's water and recreation facility set the standard for landmark family attractions in Macau, and offer the best and most sophisticated, adventurous-yet-relaxing experience for all guests."

MICE business has also been optimized at Studio City.

"To capture opportunities from the booming MICE industry, Studio City offers a wide range of unique thrilling event experiences inspired by Hollywood-style glamour," says Clayton. "Our dedicated MICE team can provide totally personalized, outstanding services for events of any size. MICE visitors are set for a spectacular experience at Studio City unlike anything currently offered anywhere in Asia. Studio City offers over 4,000 square meters of indoor event space which can be configured, allowing meeting and event planners to host anything from an exclusive banquet to an international conference with everything tailored to create the theme of their choice."

Like all other aspects of the property, the Studio City shopping area combines retail and entertainment.

"Since immersive entertainment experiences are at the very core of the Studio City proposition, our new resort retail area, The Boulevard, innovatively combines high-energy immersive entertainment with the very best in fashion-forward retail offerings. Our retail offering is a totally new concept for Macau and Asia, and brings an exciting dynamic shopping experience and a further world-class non-gaming attraction to our thrilling mix of entertainment-inspired leisure destination attractions," Clayton says.

The retail area gives a nod to great American entertainment centers, as well.

"Unlike any retail offering found in Asia, this unique 35,000-square-meter, immersive retail entertainment environment brings shopping to life by transporting visitors to high-energy streetscapes—entertaining them at every turn with featured streets and squares inspired by iconic shopping and entertainment locations including New York's Times Square and Hollywood's Beverly Hills. Moreover, at the Times Square Macau, The Boulevard at Studio City presents a variety of entertainment activities, from virtual musicians to film stars shown through holographic projections," he says.

Fixing the Holes
Clearly, the most striking element of Studio City is the iconic figure-8 observation wheel, the Golden Re
el, emerging from the center of the building itself.

"As a new iconic landmark in Macau, the Golden Reel is a totally unique entertainment offering in Asia, and indeed the world," says Clayton. "Towering 130 meters above Cotai, the Golden Reel is majestically located in the center point between the twin Art Deco towers, and will offer visitors a thrilling ride experience found only at Studio City.

"The Golden Reel was formed in traditional Hollywood blockbuster movie fashion when not one but two flaming asteroids crash through the building in tandem to create an almost perfect figure 8 (hole). With the Industrial Revolution-themed loading platform 23 floors above the ground floor, the Golden Reel has a total of 17 'steam-punk' themed cabins each comfortably accommodating up to 10 people on the 15-minute jaw-dropping journey around the distinctive figure-8 track.

"Blending the romance of the golden age of travel with Melco Crown Entertainment's unprecedented ability to provide world-class entertainment experiences, the Golden Reel showcases the company's commitment to leading the market with one-of-a-kind, industry-redefining attractions."

Goddard says his company spent many hours and days concentrating on getting this element correct.

"The Golden Reel was inspired by Lawrence Ho's suggestion that a meteor might have crashed through the center of the towers creating an open space," he explains. "From this idea we created the idea for an open space, and then, realizing the power of the number 8 throughout Asia, we doubled the opening and Mr. Ho immediately embraced the concept. We then suggested that activating the area with a Ferris wheel, creating what would be the world's first figure-8 wheel Ferris wheel, could be quite spectacular. Mr. Ho agreed, and we set about designing what became the Golden Reel.

"From that point on it was a team effort, with the internal Studio City entertainment team, and the ride manufacturing company, and the construction company, all working together to ensure the Golden Reel would be realized. Challenges included figuring out the styling of the cabs, the engineering of the structure and ride system (carried out by Vekoma Rides), and ultimately, the total guest experience from the time they purchase their ticket to the time they board, to the time they disembark.

"As the creators and designers for this incredible achievement, our goal was to create something so incredible and so fantastic that it would inspire everyone who sees it—whether in the news, or social media, or photos online."
—————————————————-
Macau Studio City's Entertainment Options
Whether they are gamblers, millennials, business travelers, leisure visitors or MICE participants, Studio City has a vast array of
choices to entertain them.
• The Golden Reel: With an Industrial Revolution-themed loading platform 23 floors above the ground floor, the Golden Reel has a total of 17 "steam-punk" themed cabins, each accommodating up to 10 people on the 15-minute jaw-dropping journey around the distinctive figure 8 track.
• Frank Harary's House of Magic: A three-theater complex featuring master illusionist Frank Harary and his Mega Magic show, along with other renowned magicians, for a truly immersive experience.
• Warner Bros. Fun Zone: A 40,000-square-foot indoor play center packed with rides and interactive fun zones, featuring all your favorite characters from Warner Bros., DC Comics, Hanna Barbera and Looney Toons in a secure child concierge environment.
• Studio City Event Center: A 5,000-seat multi-purpose entertainment venue featuring live music, theatrical shows and top sporting events.
• Studio 8: The only television studio in Macau to offer open-access, "plug-and-play" facilities to create a fully operational recording and filming studio.
• Batman's Dark Flight: A simulated ride aboard Batman's unique vehicles, taking advantage of the long-standing popularity of the movie series.