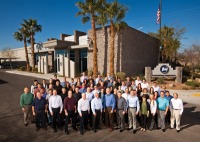 Design engineering—at least for the gaming business—is an art as well as a science.
It has to be. Gaming is among the most creative yet exacting industries in the world. The building systems in casinos and resorts have to work reliably, be safe and secure, yet provide a unique, exciting experience for guests.
"We approach engineering as a discipline," explains Mike Schwob, principal and manager of acoustical engineering at JBA. "We see each building as a system, and our solutions as a synergistic part of that system." Yet Schwob and his team are artists as well, helping, for example, to make Hakkasan, the new restaurant and ultra-club at the MGM, the over-the-top experience that it is, by optimizing the acoustics within the structure and isolating the sounds of its music and crowds from the rest of the property.
JBA Trusted Advisors take the same creative yet disciplined approach to MEP (mechanical, electrical and plumbing), security and surveillance, master planning, fire protection, telecommunications, audio and video systems, sustainability and data center design. They've worked on some of the most challenging projects in the industry, including the Cirque du Soleil Ka Theater, the Shark Reef at the Mandalay Bay and the City of Dreams in Macau, China.
To create the complex, creative yet practical building designs needed for the gaming industry, the engineering firm must foster an unusual degree of cooperation between disciplines. For example, all of a resort's technology is now carried on the same Ethernet backbone, and successful data-center design takes a close-knit team consisting of security, telecom, audio/visual, electrical and mechanical engineers.
Founded in Las Vegas in 1966 by engineering visionary Ralph Joeckel, JBA grew with the gaming industry, securing work on over 90 percent of the casinos and resorts in Las Vegas, as well as newer projects around the world. JBA has been a standard-setter for many decades—for example, helping to rewrite the Nevada fire and life safety codes in the 1970s.
YWS Architects Principal Tom Wucherer noted, "We've worked together for more than 25 years on all kinds of big projects, including the Mirage, Treasure Island and Bellagio. I like going to JBA because I know they grasp what we're trying to do, I know they will help us make it happen and I know they will get it done right."
For more information, visit www.jbace.com.