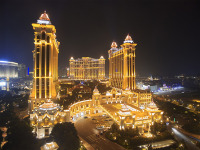 The second phase of Galaxy Macau opened in May. Designed, like phase one, by Steelman Partners, the elements brought into the expansion are an advancement and a greater understanding of the Galaxy clientele.

Take the casino, for example.

Low ceiling heights help create an intimate, cozy, warm and sophisticated mood. Color palettes are dominated by golds, ivory and creams, supplemented with rich crimson custom-designed carpets and decorative wall panels.

The ceilings are a series of decorative coffers with indirect layers of light, gold leaf accent trim and feature suspended chandeliers. A central bar is located on a raised platform overlooking the gaming floor with an illuminated central tower supporting a peacock-inspired metal canopy and large integrated LED panels.

The premium spaces are supplemented with beautiful, rich laser-cut, water-jet stone flooring in abstract floral patterns, and custom hand-woven crimson and wine carpets. The main gaming salon features a European-inspired ellipse-shaped crystal chandelier feature located within a soft-layered coffer of light. The mass gaming floor is screened off by way of complex decorative gold metal, crystal and glass screens, framed by soft full drapery tiebacks.
Jinmen VIP Gaming
This VIP casino increases the level of exclusive elegance and luxury threaded through the refined aesthetic and brand of its predecessor in a playful and vibrant way. Rich hand-tufted carpet designs in Mandarin oranges and golds with shimmering Lurex yarn accent trim are used in the main gaming spaces, while crimson reds and mustard gold designs are located in the private salons. Walls are typically clad in natural stone slabs with decorative bronze metal studs or soft leather upholstered acoustic panels. Ceiling coffers are soft, free-form shapes with large shaped fibrous plaster moldings and draping crystal chandeliers.
Gaming Lobby
This space was delicately designed to feel "soft and sheer" with intricate laser-cut metal patterning and delicate rose-inspired mosaic stone feature wall mural panels.

The reception and hostess counter in this entry lobby features a three-meter crystal wave chandelier light fitting. A series of rear-illuminated onyx wall panels act as a backdrop.

The floors are chevron-patterned Serpegiante Stone panels providing a contrast to soft waved and layered gilded ceilings.
Owner: Galaxy Entertainment Group
Architect: Steelman Partners
General Contractor: Hsin Chong Construction Group
Investment: $3 billion