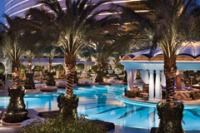 Established in 1958 and based in Newport Beach, California, Lifescapes International, Inc. is an internationally renowned landscape architectural design firm. Having provided design for landscaping architecture for more than 15 casino resorts on the Las Vegas Strip, as well as an additional 50 casinos and casino resorts across the United States, Asia and Europe, Lifescapes International continues to create successful, dynamic destinations, wherever they may be.

For more than five decades, Lifescapes has been a significant design influence for gaming-related properties (including Native American and commercial gaming properties), destination resorts, mixed-use developments, retail centers and entertainment-driven projects.

Lifescapes International completed designs for one of the Las Vegas Strip's newest casino resort additions with the opening of Encore Beach Club, and also designed the landscape environment for Encore for Wynn Resorts. Another recently opened Lifescapes International project is Pinnacle Entertainment's River City Casino in St. Louis; currently they are developing designs for Pinnacle's new L'Auberge Baton Rouge project, scheduled to open next summer.

Lifescapes International's senior principal leadership team consists of CEO/FASLA Don Brinkerhoff, President/CFO Julie Brinkerhoff-Jacobs, Executive Vice President/General Manager Daniel Trust, Director of Field Services Roger Voettiner and Director of Design Andrew Kreft. They all work in unison to create and manage the firm's projects, with the assistance of a team of highly qualified landscape architects, project designers and a strong administrative staff.

In addition to working successfully on many national gaming developments, Lifescapes International
has worked on a variety of Native American properties, including the original Agua Caliente Casino, Harrah's Rincon Casino and Hotel, Barona Casino, Pala Casino and Resort and the Spa Casino and Resort.

"The entertainment and resort operators, including astute executives within the gaming industry, have realized for many years that stand-alone gaming activities are simply not enough to keep customers fully engaged on their properties," Brinkerhoff-Jacobs says. "We are now working on nightclubs, beach clubs, retail and restaurant environments so our gaming clients have other captivating activities for their customers to enjoy during their stay."
For more information, visit www.lifescapesintl.com.