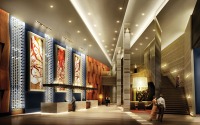 As one of the top-tier entertainment and hospitality design firms in the United States, as ranked by HA+D magazine and Building Design & Construction magazine, Hnedak Bobo Group offers a proven history of delivering distinctive design solutions that drive competitive advantage and successful performance results for their clients. HBG's 90-plus professional staff have been creating highly competitive, exciting casino properties for tribal and commercial gaming clients for 34 years.
An award-winning provider of architecture and interior design, the firm has been recognized with more than 200 design and industry excellence awards, including four recent G2E Casino Design awards: 2013 Best Architectural Re-Design/Expansion for a Casino Resort for the Four Winds Casino Resort in New Buffalo, Michigan; and 2012 Best Architectural Design for a Casino Resort Under $200 Million for Four Winds Casino in Hartford, Michigan. HBG's Four Winds Hartford project also won the Best Native American Casino Resort category.
HBG has built a reputation for thinking differently. Team members know what it takes to operate a competitive property and translate that knowledge into unique project solutions. HBG is one of the few architecture firms working in gaming today to own, operate and develop a four-star hotel: a successful Westin hotel located within a thriving entertainment district. HBG principals call it "an experiential laboratory for operational efficiency and design innovation." HBG is able to access real-time insights into the workings of an upscale property to understand the implications design decisions have on every aspect of operations and guest experience.
HBG also is known for thinking differently when it comes to project delivery. The firm recently introduced CasinoNow, a unique technology-driven casino design approach developed to accelerate the total project delivery time—giving HBG's clients a "head start" to realizing gaming revenues sooner.
HBG's recent projects include the new Seneca Buffalo Creek Casino in Buffalo, New York; a new hotel addition at the Apache Casino in Lawton, Oklahoma; and the 500-room hotel tower and casino expansion at WinStar Casino for the Chickasaw Nation of Oklahoma. Active supporters of NIGA, NCAI and regional Indian gaming associations, last year HBG was recognized as the NIGA Associate Member of the Year.
HBG's hallmark is delivering well-crafted design and smart, market-supported projects for clients. The firm's philosophy is to design more than just buildings for clients: by thinking differently, HBG designs investments and creates lasting value for building owners and their guests.
Visit HBG at www.hbginc.com.