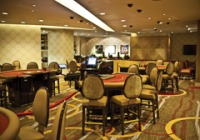 Paiza Room, Sands Casino Resort Bethlehem
Bethlehem, Pennsylvania

OWNER: Las Vegas Sands Corporation
PRINCIPAL ARCHITECT: HD Architects
INTERIOR DESIGNER: Floss Barber Inc.
CONTRACTOR: Alvin H. Butz Inc.
TOTAL INVESTMENT: $30 million*
*Cost is for total expansion project, including hotel. LVS does not release individual project costs
The big news last month was the grand opening of the Sands Hotel in Bethlehem, Pennsylvania, which made the Sands Casino Resort Bethlehem only the second Pennsylvania casino to offer hotel rooms. But one portion of the overall $800 million hotel project was a gem of a casino addition that went with the project—the Paiza Room.

The Paiza Room, designed by Philadelphia-based Floss Barber, Inc., is a high-end gaming room that gives the Pennsylvania casino an element that stands up to any high-end gaming room offered by the venerable operator. The 6,600-square-foot room, which includes 17 tables—eight blackjack, eight midi-baccarat, one roulette—exudes a simple, classic elegance and an understated theming that gives a subtle nod to LV Sands' Asian mega-resorts.

Instead of bold reds seen typically in Asian gaming rooms, Paiza uses earth tones and gold, accented by red-felt tabletops and, overhead, a glass sculpture by Lasvit of the Czech Republic.

Suspended from the ceiling and visible through a window on the room's exterior facade, the umber-gold glass sculpture is "dragon-like," says Floss Barber, founder and principal of the interior design firm. The sculpture sets the stage for the rest of the room. "What was important to us was that the room be simple and elegant, have a timelessness to it, and relate to the casino," Barber says. "There is an ever-so-slightly tilted ceiling. We were very aware of feng shui, so we wanted to make sure there were curvilinear, organic forms in the carpet—half-red moons."

This design extends to two private gaming salons included in the room, each with a buffet that mirrors the buffet in the main room. (The room also includes an exclusive bar and lounge with flat-screen televisions.)

Barber adds that she took care to assure the design of Paiza conveyed the main purpose of the room, which is exclusivity for good players. "When you're in that room, you're really the high-limit player," she says. "It is completely secluded, with upholstered walls, a crystal chandelier, and wall art."

The design created by Barber (project manager/designer was Patricia
Rauner), who also designed all three of the Emeril Lagasse restaurants at the property (with project management by Joe Alteari), does the job of conveying what the Sands is all about.