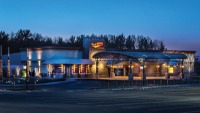 Four Winds Casino
When it came to the major design decisions for the third casino of southwest Michigan's Pokagon Band of the Potawatomi Nation, the model already existed—the tribe's first two Four Winds casinos, in Hartford and New Buffalo, Michigan.
Those casino properties, designed by Memphis-based architectural firm Hnedak Bobo Group, called on the history and culture of the Pokagon band, which remained in the southern Great Lakes region when the bulk of the Potawatomi migrated westward in the 1830s.
"We conducted a cultural investigation with the Pokagon client to learn the elements that tribal citizens wanted to incorporate into their gaming properties," says Nathan Peak, lead designer and senior associate at Hnedak Bobo Group. "At the entrance is an 'eternal flame' hearth room for guest lounging, featuring a 360-degree circular fire pit covered by a copper hood, holding further symbolism of the tribe's cultural heritage. The tribe was the first to use copper metal in tool and jewelry making."
Birch wood is another important material element to the Pokagon Band, leading designers to utilize the faux birch logs to custom-create a unique pit canopy for the central table gaming area. Floor patterns were designed to represent tribal basket-weaving.
Peak notes that the white birch wood above a table gaming area and stones used in the construction were from the area, which has long been home to many of the tribe's 4,600 citizens. Featured artwork is also significant to tribal citizens and the area.
"Given the integration of cultural motifs into the design, specialty fabricators and artisans were brought in to create the distinctive metalwork and artwork, and tribal artwork in the hearth room was provided by various Pokagon tribal members," Peak says. "To ensure cultural authentication, the Pokagon Tribal Board developed the Pokagon Art Council to review all other specialty artwork created for the Four Winds Hartford Casino."
The result was a re-creation of the Pokagon motif used in Hartford and New Buffalo, but on a smaller scale. The Four Winds Dowagiac Casino, which opened April 30, is a 27,000-square-foot casino with 305 slots and four table games. (By comparison, Four Winds New Buffalo has a 135,000-square-foot casino; Hartford, 52,000 square feet.)
"The design by Hnedak Bobo Group was intended to give the Four Winds Dowagiac a look and feel similar to its larger sister casinos," says Tom Topash, a tribal council member. "We had input on the design details, such as images of otters and water lilies. The designers really listened to us. It's all there."
The location of the newest Four Winds, though, gives added significance to the cultural heritage incorporated into the design. For the Pokagon Band, Dowagiac is home. The band's government offices are in Dowagiac, as well as many of its citizens.
"People have asked, why build here?" says Tribal Chairman Matt Wesaw. "Why here? It's home. We didn't move here. This is home."
OWNER: Pokagon Band of the Potawatomi Nation
ARCHITECT: Hnedak Bobo Group
INTERIOR DESIGN: Hnedak Bobo Group
CONSTRUCTION CONTRACTORS: Christman Company and Kraus-Anderson Construction Company
ENGINEERING: Classic Engineering, structural engineer; PE Services, mechanical engineer; Wrightman Engineers, civil engineer