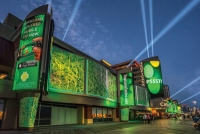 As part of a multimillion-dollar renovation plan, Tropicana Atlantic City partnered with SOSH Architects to upgrade the property and give it a fresh, new, modern look. Highlights of the revitalization include a completely renovated casino floor, a new casino bar and lounge, and a spectacular new Boardwalk façade with a multimedia light and sound show.

Last renovated in the 1980s, the North Tower section of Tropicana's casino floor was outdated and underused. SOSH transformed the aging space into a timeless gaming atmosphere to showcase Tropicana's advanced gaming product while embracing the Cuban flavor of The Quarter.

Adding to the design challenge was the need to seamlessly integrate an existing sports bar. The design team set the stage for a fresh new gaming floor experience by delivering a sophisticated design, a new high-limit zone and a pedestrian pathway that visually guides visitors from The Quarter to the North Tower casino. Havana-inspired colors, textures and other visual cues were woven into the design, creating a lively and engaging place to play and be entertained.

Directly off the new North Casino floor is a warm and contemporary bar, the 10 North Lounge. The space came with several design challenges, including low ceiling heights and numerous support columns for the hotel structure above. Using innovation to overcome these obstacles, SOSH delivered a bar design that is intimate and inviting. Back-to-back fireplaces create a special ambiance in two living-room lounges. Gleaming dark marble and 24 video slot machines span the 100-foot centerpiece bar. Behind the bar is a backlit glass wall set aglow with natural minerals, crystals and semi-precious stones.

The centerpiece of Tropicana's extensive renovation project is the transformation of the property's Boardwalk façade. SOSH, in conjunction with signage consultants YESCO and general contractor Massett, transformed the once-unassuming exterior into a flashy interactive light and sound display. The design consists of 15 screens, each 17 feet high, linked to create kinetic lighting effects to serve as the backdrop of the show. In addition, there are five high-definition video screens with moving strobe lights and an LED light and video "column" that rises 66 feet into the air, serving as the façade focal point.

The resort's innovative renovation also included upgrades to the North Tower hotel rooms and a new state-of-the-art fitness center.
Owner: Tropicana Entertainment
Contractor: Massett Building Company
Architect/Interior Design: SOSH Architects
Investment: $50 million